A few weeks ago my brother and I were engaging in one of our favorite activities, which involves going to Barnes and Noble, picking up as many books that seem like they might be of interest, walking around the store with them for a while and then deciding to not buy anything. This particular instance, I was clutching a book by Francesc Torres about the fosas in Cataluña called
Oscura es la habitación donde dormimos
or in English
Dark is the Room Where We Sleep
. It's glossy pages were filled with moving and disturbing images, reminders of the brutality of the Spanish Civil War with text in both Spanish and English (I would like to translate things of that nature, by the way, any takers?).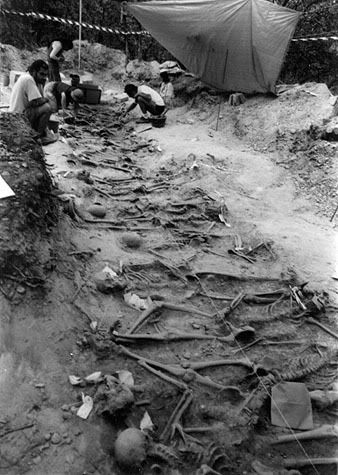 For whatever stupid reason (probably the fact that I have pretty much no money after I pay rent, bills and loans), in one hasty motion of slight indecision, I put the book down. Unfortunately, at the time I didn't take note of the author, nor did I write down the title of the book ni nada in my notepad. All I knew was that I had seen an amazing book about fosas, which is like trying to find a book about Terry Richardson and googling "softcore hipster porn."
To my surprise, The ICP is (and has been) showing Francesc Torres' project (along with the Other Weapons: Photography and Print Culture During the Spanish Civil War.
--------------------------
International Center of Photography presents a project by Francesc Torres:
Dark is the Room Where We Sleep
On the night of September 14, 1936, forty-six supporters of Spain's Republican government were killed in the village of Villamayor de los Montes, and buried in an unmarked mass grave. As it does in this small village outside of Burgos, in northern Spain, the violent history and legacy of the Spanish Civil War remains buried throughout the country, in both metaphorical and concrete ways. In 2004, Barcelona-based artist Francesc Torres joined forces with a forensic anthropology team as they uncovered the mass grave. Torres photographed the work of forensics team, as well as the participation of local townspeople who became involved in the project. Torres has created an installation of black-and-white photographs from this documentation that poignantly and forcefully examines the relationships between war, violence, memory, and photography. The exhibition will be accompanied by a catalogue, published by Actar press in Barcelona, and will be presented at the Center for Contemporary Culture in Barcelona after its ICP showing.
-------------------------
From the author:
About seven years ago I started working with the idea of the recovery of the memory of Spain's recent history. First I considered an archaeological project centring on the material sediment of the Civil War in the old battlefields, specifically the Ebro front. At the same time, the Spanish Association for the Recovery of Historical Memory (ARMH) had begun to locate, excavate and exhume the mass graves from the Spanish war and post-war. After a protracted struggle with two successive Catalan regional administrations of opposing ideological signs who thwarted my project in Catalonia, despite my having funding from two US foundations (Fulbright and American Center) and the support of two Catalan universities, I ended up doing it in Burgos in collaboration with the ARMH. This book documents an exercise in citizenship by a group of Spaniards determined to rescue a part of their history which had been sequestered.
-Francesc Torres