Kino International has released Eisenstein's
Battleship Potemkin (1925)
on DVD today. This version has been restored, includes deleted scenes, and a 42 minute documentary on reconstruction (in German - not sure if the documentary has subtitles in English but one would assume it does). On the market for $29.95.
Scene of woman carrying her deceased child in the film
Another important film that is being re-released on DVD today is
À bout de souffle (1960)
(or as we call it in America, Breathless). This film was directed by Godard and co-written by Truffaut. It could be said that this film along with Les quatre cents coups (The 400 Blows) are exemplary of nouvelle vague cinema. The extras on the latest Criterion version are excerpts from Mark Rappaport's brilliant essay film "From the Journals of Jean Seberg" and "Chambre 12, Hotel de Suède," a 1993 French documentary about the film's making. Available for $39.95.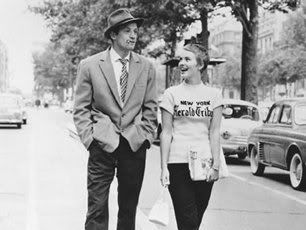 Iconic scene from Breathless of Jean Seberg and Jean Paul Belmondo
--------------------------
New York Times New DVDs article published today.