This Saturday and Sunday 11:00 AM - 5:00 PM,
The New York Center for Independent Publishing is hosting the Indie & Small Press Book Fair at the General Society Landmark Building at 20 W. 44th Street (between 5th and 6th Aves).
Let me map out the highlights and you will see why this is one of the greatest things to happen to Midtown Manhattan
since
EVER.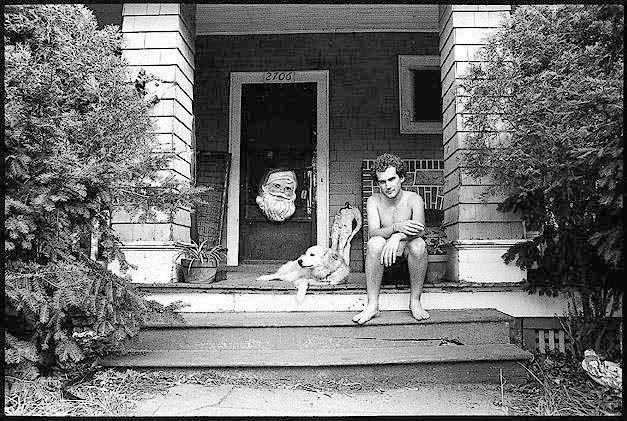 An old photo of Ian MacKaye and his doggie at home. Photo Credit: Glen E. Friedman. Taken from his webpage Burning Flags.
On Saturday, December 1st:

2:00pm-2:50pm
Ian MacKaye on Independent Culture: Q&A with an Introduction by Ian Svenonius

A Q&A with Ian MacKaye (Minor Threat, Fugazi, The Evens and co-founder of Dischord Records). Bring your questions regarding the parallels between the worlds of independent music and book publishing, sustainable models for truly independent companies, and anything else that's on your mind.

3:00pm-3:50pm
Keep Your Eyes Open: Ian Svenonius Interviews Photographer Glen E. Friedman, with Slide Show Presentation

Glen E. Friedman, considered one of the most important photographers of his generation, became well known for working with such rebellious artists as Black Flag, Ice-T, Dead Kennedys, Minor Threat, Misfits, Bad Brains, Beastie Boys, Run-D.M.C., KRS-1, and Public Enemy. Many of his photographs are recognized as the subjects' definitive portraits. His most recent book, centered around the band Fugazi, is titled Keep Your Eyes Open (2007). Ian Svenonius has been the singer and spokesman for various music groups, including Nation of Ulysses, The Make-Up, and currently Weird War. Svenonius is also the author of The Psychic Soviet.

On Sunday, December 2nd:

2:00pm-2:50pm
Qu'est-ce Que C'est Sex and Violence: Permissibility in Translation with Panelists Amy Scholder, Chad Post, Slava Mogutin, and Sinan Antoon

Sex and violence are universal traits but are different cultures ready to share and experience each other's transgressive writings through the bridge of translation? A panel with Bruce Benderson, Slava Mogutin, Sinan Antoon and Amy Scholder moderated by Tom Roberge, Managing editor of A Public Space.
HOLY SCHISSE! IAN EFFING MACKAYE IN NEW YORK CITY! I've loved and admired Ian MacKaye ever since I was thirteen years old when I first heard Minor Threat's Complete Discography. I used to write him letters about how much his music meant to me (and still means to me) but I never had the gall to send them. I wish I could dig them up, I'd give them to him on Saturday if I still had them in my possession.
Go
here to read Time Out New York's 3 questions for Ian MacKaye.
Glen E. Friedman has a new book out called
Keep Your Eyes Open
which is all about Glen and Fugazi from 1986-2002.
Ian Svenonious, member of Nation of Ulysses and The Make-Up, has a great book out called
The Psychic Soviet which goes HIGHLY recommended.
This weekend is jam packed with cool stuff to do! My head is spinning... IAN MACKAYE!!!